eToro Trading Conditions
The Trading Conditions at eToro are similar with others in the industry. In terms of Leverage, eToro provides clients with different options depending on the instruments they are trading. For example, when trading Stock CFDs, clients have the option to increase leverage to 1:2, 1:5 and 1:10; with Indices, additional leverage levels are allowed at 1:25, 1:50, 1:100; For Forex, eToro offers additional leverage levels of 1:200 and 1:400 which are the highest the broker offers, but definitely not the highest we have seen in the industry. Lastly, if clients choose to trade Cryptocurrencies, they will have to settle with a Leverage fixed at 1:1, which is actually becoming more popular amongst brokers at the end of 2017, due to the huge volatility Cryptocurrencies have, which can cause heavy losses to traders, as well as the Broker.
eToros' execution could be better, especially when trading Forex. Whilst testing the Platform, we noticed that execution of orders vary. For example, trading Forex, can take a couple of seconds for the order to be executed, whereas other instruments were executed quite faster moreover.
Whilst previously offering bonuses, eToro only provides its clients with a 'refer a friend' bonus at the time of writing. For every referred client, both parties (referee and the referred) receive $20 after their first deposit. The maximum amount for referring friends is $200.
After the latest changes in legislation by EU Regulators, Brokers have been forced to adjust certain elements they offered which acted as incentive to clients, such as Deposit Bonuses, higher Leverages, etc.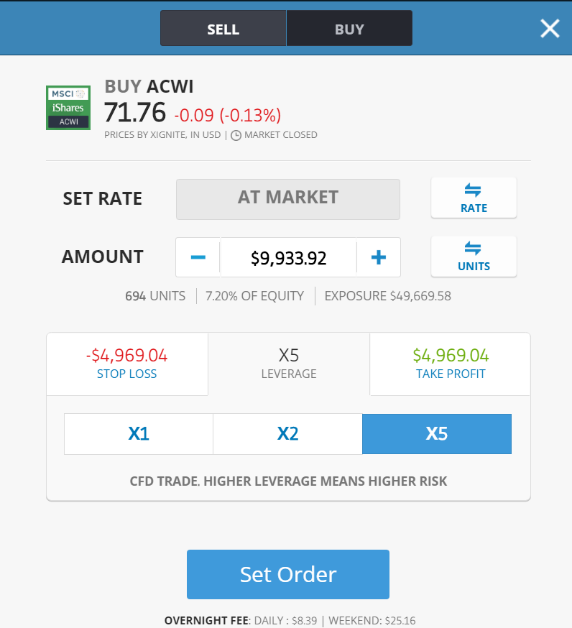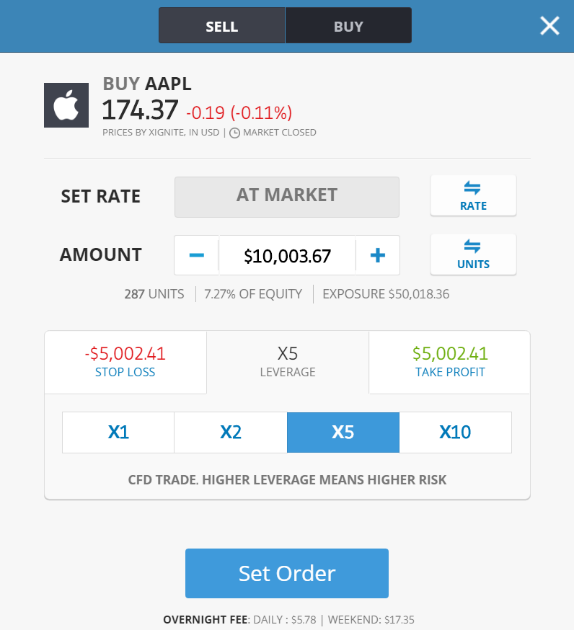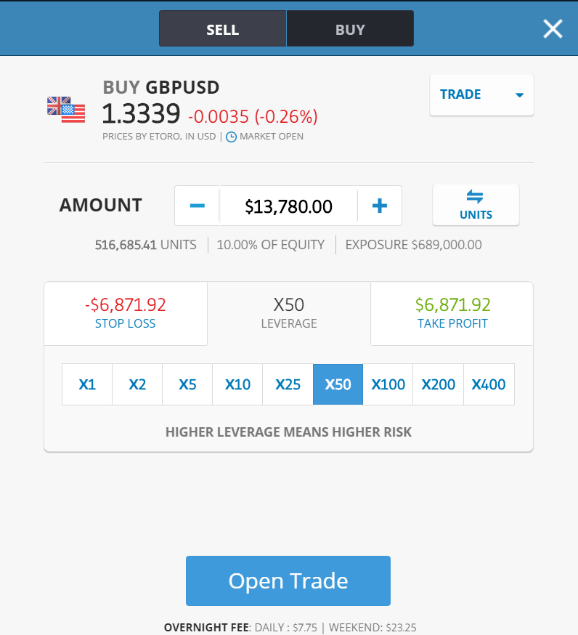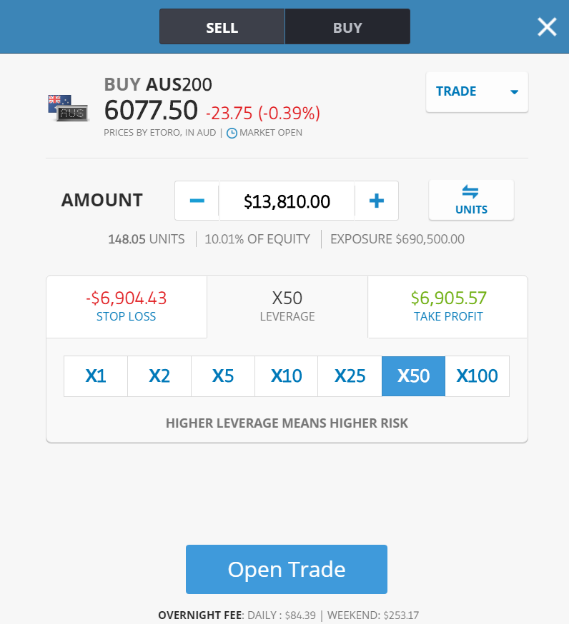 eToro Commission and Fees
Compared to other Forex Brokers, eToro has relatively high spreads for Forex Trading. The most liquid pairs like EUR/USD and GBP/USD have average spreads of 3 pips and 4 pips in the London and New York sessions. Some pairs even have 7 pip spreads (EUR/AUD and EUR/CAD). The highest spreads can reach up to 20 pips (for PLN and ZAR pairs). Currency pairs also have a rollover fee, which can be positive or negative, depending on the particular currency's interest rate.
Cryptocurrencies have spread of 2% of their value (for Ethereum), up to 5% for Bitcoin Cash and Ethereum Classic, whilst Bitcoin has the lowest spread of 0.70%. All cryptocurrencies have a negative rollover fee for short positions (sell), whereas long positions (buy), rollover fees are 0.
Stocks CFDs have variable spreads, depending on the particular stock and its industry. For example, some stocks, such as Alcoa (AA), has a spread of 0.24% of its value (which is the spread for most stock CFDs), while Apple (AAPL) has a spread of 8 points. There is also a fee for all stocks, no matter if clients are buying or selling.
Commodities have spreads starting from 5 pips for oil, up to 45 pips for gold, but if Clients decide to sell Oil and Natural Gas, they would receive a positive overnight fee. Indices however, have the highest spreads on eToro, starting from 100 pips for SPX500 and up to 1000 pips for JPN225. The overnight fee is negative for both buying and selling each one of these indices.
ETFs have a flat spread of 0.24% with a negative overnight fee on buying and selling of all ETFs.
eToro also charges an inactivity fee of $5 per month, provided there are funds for this deduction, for accounts that have had no login for 4 months. If the trader logs in, the account will be considered active once again.
eToro Platform and Tools
eToro offers only one web-based platform for desktop users, and a mobile app for Android and iOS, both available in 13 languages.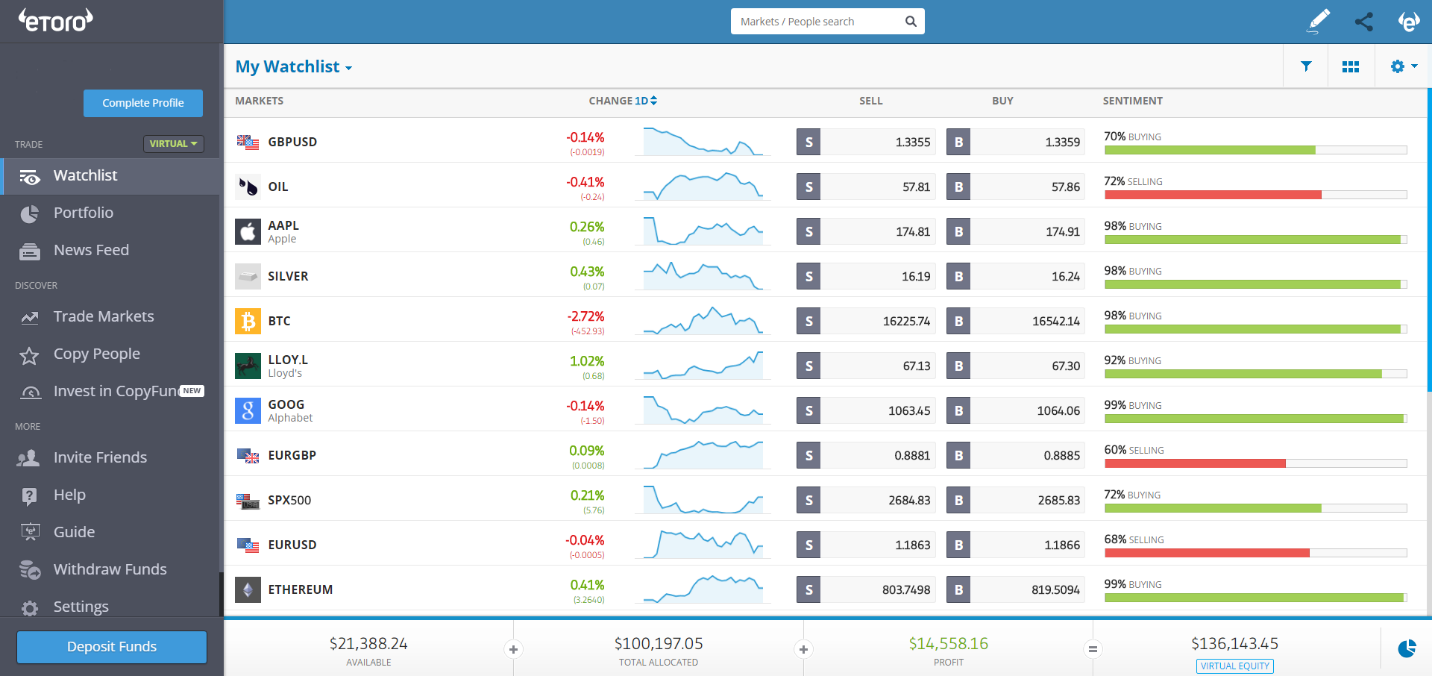 Navigating their platform is straightforward and easy for both beginners and experienced traders. All trading instruments can be found in the Trade Markets tab, arranged by specific sub-headings (Stocks, Currencies, ETFs, etc.), and once you select a particular instrument you want to trade or examine, you have several options: to see the candlestick chart, to check the historical price data, and to get information on the particular instrument, such as what it is and how its price is affected, which is a very useful feature, especially for cryptocurrencies.
Another option that every trading instrument has, is the social feed where every trader on eToro's platform can share news, info, or their thoughts on the particular instrument.
The next tab on the Trading Platform, is the Copy People tab from where clients can select which profitable traders they want to follow, which in turn means they will be copying all the activity of the other user. These traders are ranked based on statistics of Risk & Profit, enabling inexperienced traders to have enough information to true who to follow. Once a client selects a trader to follow, they are instantly given access to portfolio information of the trader they are following, gaining access to statistics such as monthly performance, profit/loss analysis, instruments the Trader is currently holding, and lastly, their social feed, which shows the trader's interaction with eToro's Community.
The latest addition by eToro has been 'CryptoFunds' which allow clients to copy funds. Essentially, a collection of instruments is placed in one place. CryptoFund has all 7 major Cryptocurrencies.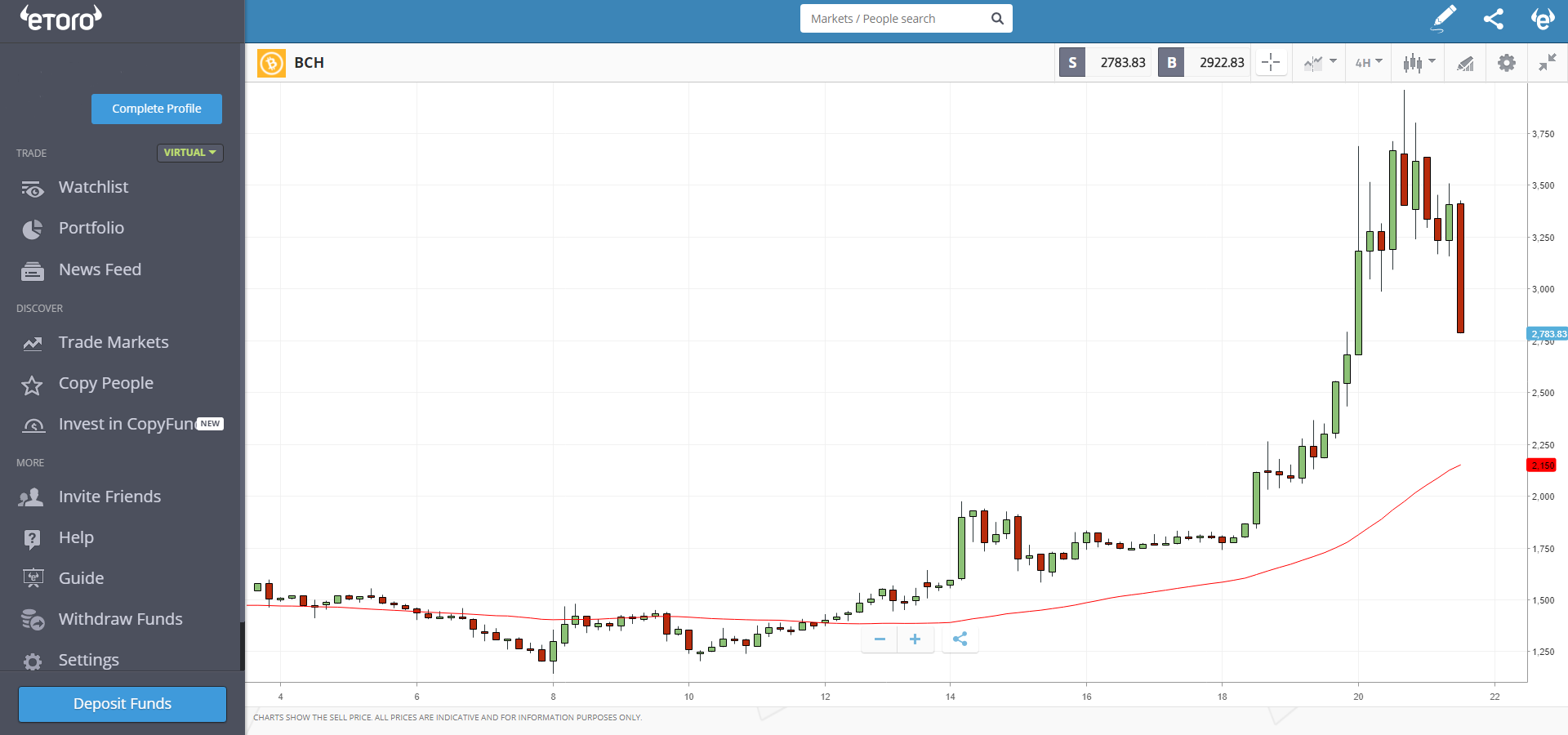 Something significant to note, is that eToros Platform has all the basic charting indicators, plus it has the option to overlay other instruments, which can be a good addition for anyone looking for correlations between instruments. Unfortunately, at this point, there is no option to add your own, custom-made indicators, which is a major disappointment.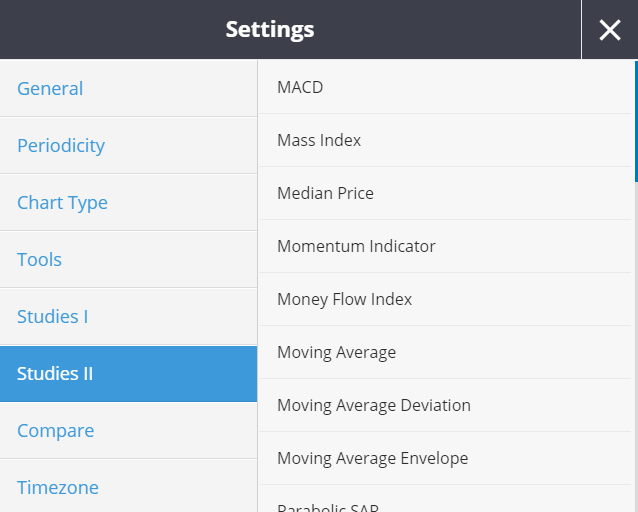 eToro's platform and its charting functions are designed for both beginners and experienced traders. It may not be a good-looking platform visually, but it is well-structured and easy to use.
At the moment of writing, eToro does not support automated trading software.
eToro Conclusion
eToro is probably the only online Broker that offers so many and various trading instruments in one place. The eToro Platform is easy to use and is accessible from every computer, tablet, or smartphone through a web browser, which makes it a convenient way to trade or manage a portfolio for both beginners and experienced traders.
Another reason some clients may consider choosing eToro is for the Social Trading system they offer. It is a fun and engaging way to learn how to trade, and for those who do not have time to trade it is a good option to just select a trader and copy their trades. We do still urge our users to be careful letting other people decide how your money is invested. The best approach to Trading is a solid educational foundation.
The biggest downside of eToro that we really didn't like, is the way they handle their Deposits and Withdrawals. The Minimum Deposit is very high at $1,000 for newbie traders, but also for anyone who just wants to deposit a small amount to test out the platform before engaging in heavy investments. In addition to this, all deposits that are not in USD are converted to USD (expect a markup on the conversion), and are also accompanied by high deposit fees. On the contrary, the industry standard in the last years has seen Minimum Deposits as low as $5, with all transaction fees related to the deposit, covered by the broker. Clients also have the option to choose the base currency they preferred (EUR, USD, GBP, JPY) which nullified conversion costs.
On the Withdrawal side, requiring a $25 Withdrawal Fee is pretty unethical in our opinion, as the truth is that it's there to act as a deterrent so Clients do not withdraw money. Also, the fact that some traders have complained about not getting their withdrawals processed could be an issue to keep in mind.
We also didn't particularly like the high spreads offered, which can limit traders who adopt scalping strategies.